Academy athletes perform strongly at District Cross Country Championships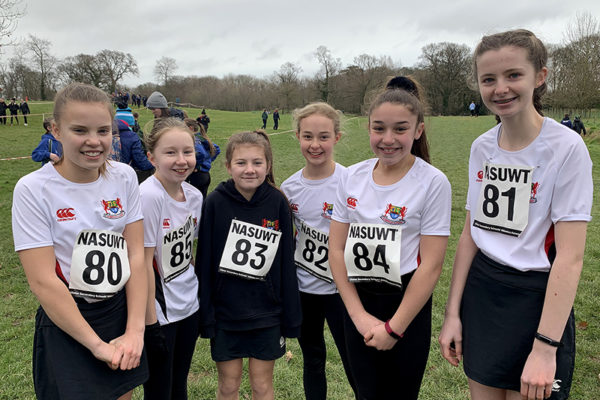 Banbridge Academy were well represented by almost 40 athletes competing in the County Down Schools' Cross Country Championships held on a cold but dry day at Delamont Country Park in Killyleagh.
The first races of the day saw strong teams from the Mini Girls' and Mini Boys' (Year 8) competing against 150 runners from across the district. In the girls' race, Ellie Cousins was first home for the Academy in 8th place overall, a result which will qualify her for the Ulster Championships as a top 15 finisher at District level. She was closely followed by Ciara Patton (19th), April McFarlane (38th) and Zara McCormick (39th). Alexandra King and Beth Sinton also ran well to finish in the top half. In the mini boys' race, Luke McGerrigan led the way in 10th place with Charlie Tumilty finishing 14th and both boys will now go on to represent the Academy at the Ulster Championships. Daniel Murray, Robbie Nicholl and Alex Moran also all ran strongly for the team and gave them a top five team finish in the competition.
In the Minor races (Year 9), Kate Ferris and Ciara Daly, ran superbly well to finish 16th and 17th respectively just missing out on Ulster qualification by the narrowest of margins. While Andrew Jackson finished 36th with Elijah Dempsey and Ryan Hanna running strongly to finish in the middle of the large field.
The Junior races (Year 10) were also closely contested for both the boys and the girls. Anna McKernan ran strongly finishing 19th place in the girls' event and was ably supported by good runs from Emma O'Neill (33rd) and Beth Cordner (40th). The boys race saw a remarkable performance from Kian Moran who ran extremely well into 7th place and claimed his spot in the Ulster Championships. Kristian Brown and Daniel Reid also had strong races to finish well up the field.
In the Intermediate races, twin sisters Pippa and Ruby Wilson had good performances and finished 18th and 33rd respectively while the boys saw Simon Ferris run brilliantly to finish 11th and qualify for the Ulsters. He was backed up by good runs from Matthew McKee, Morgan Murphy and Ronan Quinn who performed very well and all finished in the top half.
Our Senior girls had a very strong outing with Lucy Bradshaw running a storming race to finish 9th and qualify for the Ulsters while Emily Cantley finished strongly in 16th place but unfortunately missed out by the narrowest of margins.
So six Academy athletes go forward to represent their school at the Ulster Championships at Mallusk on Wed 12 February, but all those who participated should be congratulated on their efforts in cold and difficult conditions.