Banbridge Academy 1st XV defeat Rainey in Schools' Bowl Quarter final.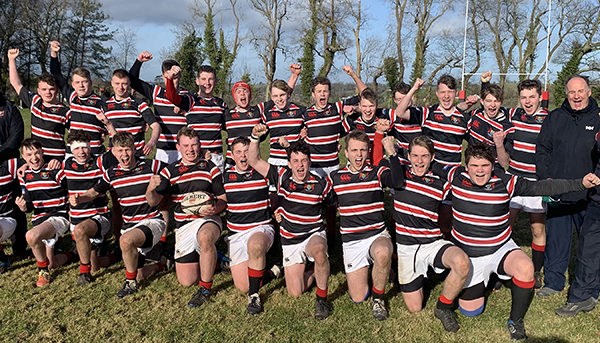 Banbridge Academy 1st XV secured a place in the Schools' Bowl semi-final with an impressive 19-12 win over Rainey Endowed from Magherafelt.
The quarter final, played at the Academy's home pitch, took place on a very windy morning and began with the Academy in the ascendency, but the substantial early pressure from the Academy was repelled by obdurate Rainey defence. After 20 minutes, with their first real attack of the game, it was the Magherafelt team that took the lead after some weak tackling in the Banbridge midfield. The visiting out-half was wide with the conversion attempt. This seemed to spark the Academy into life and just four minutes later, the Academy took the lead, when some excellent tight play from the pack, resulted in Flanker Marcus McNeill driving in for a try and wing Jonny Martin adding the extras. On the stroke of half-time some pressure from the Academy was further rewarded when centre Jake Houston picked up a loose ball and powered over the line under the posts. Martin was successful once again with the conversion.
A 14-5 lead playing into the stiffening wind in the second half looked to be a precarious advantage and after just five minutes of play, Rainey worked some close range play and powered a maul over the Academy line to close the gap. The writing appeared to be on the wall for the Banbridge boys, but just as in the first half, this seemed to galvanise the Academy and they proceeded to play their best rugby of the entire match. After numerous surging forward drives, Flanker Ben Bradshaw hit a short line and powered over the whitewash to increase the lead to 19-12 with just 17 minutes left. While there were a few worrying moments in the final third, the Academy continued to dominate the tight exchanges and controlled play right up until the full-time whistle sounded to the delight of the Banbridge players and the large home support.
It was undoubtably Banbridge Academy's best performance of the season and all the players stepped up to the mark to help the side to victory. Of particular note, were the Academy back row of Captain Adam Hanna and flankers Ben Bradshaw and Marcus McNeill. Allied with hooker Marc Murphy they combined to produce some excellent rugby ensuring the Academy were on the front foot with strong carries and excellent work rate.
The win has now earned the Banbridge boys a semi final away to Belfast High School, due to be played on Saturday 22 February. They will go into the tie as underdogs having lost out 17-29 to the High School in November during the Group stages of the Schools' Cup, but the side will be buoyed by their outstanding performance which saw them overcome this strong Rainey Endowed side – even though they also entered this match as underdogs!
Picture L-R: Mr R S McLoughlin (Principal), Mr B Leslie (Rugby Coach), Mr Roy Stevenson (Coach), Mr R Ervine (Coach)