Banbridge Academy Boys' Hockey Celebrate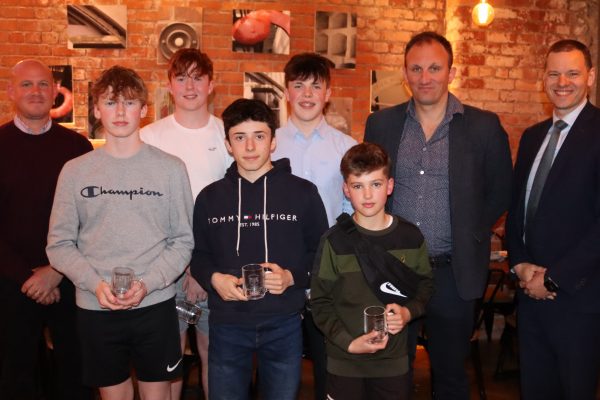 Banbridge Academy held their annual Boys' Hockey Awards ceremony on Monday 25 April 2022 at new Recognition & Reward partners The Vault, Banbridge. The event was the culmination of a tremendous season of achievement at the elite end of the game with the Academy Boys 'Kings of Ulster' in no less than 4 Competitions – with a Senior Schools' Trio of Burney, McCullough and Prior titles plus the illustrious Richardson Cup.
The special guest for the evening was past pupil Mr Scott McCandless who congratulated all players on their continued success and praised the player pathways; the Academy now have in place for elite sport and performance. His praise of the process and dedication of the staff and parents involved was his main focus, as well as the naming of Charlie Rowe on the Irish Senior Men's National panel – the first to do so since Eugene Magee in 2002 when he too made a start in the green shirt in Upper Sixth.
Headmaster, Mr Robin McLoughlin, was quick to add thanks to EMTEK for their amazing support for all the squads as they prepared for the business end of the season and their rewards for high achievers at all levels. He also paid tribute to the leavers in Upper Sixth, with so many players opting to continue to play the game at the highest level at University and for Ireland. He then surprised Master in Charge of Hockey, Mr Mark Cordner, by presenting him with a shirt to commemorate his 25 years in charge – it was fitting that a large contingent of former pupils and players arrived to mark this special occasion.
Mr Cordner added that his work with teams over the years had been a privilege and the memories and opportunities that hockey gives are lifelong. He paid tribute to Banbridge Hockey Club and acknowledged the extremely successful link with the Academy and thanked the school, Governors and colleagues for such a wonderful end to the season.
It has been a sublime season for all teams at all levels – trophies, titles, International selection, new sponsors and even a tour, amongst the gloom of Covid, in Oxford to maintain morale and develop resilience.
The evening ended with the following prizes awarded:
U12 Player of the Year OWEN DOBSON
Most Improved HARVEY MCBRIDE
Captain OWEN DOBSON
U13 Player of the Year SHAUN WARD
Most Improved CHARLIE PATTERSON
Captain ROSS MCCOMBE
U14 Player of the Year JOSH OSBOURNE
Most Improved ADAM EWART
Captain ADAM EWART
U15 Player of the Year ADAM MCKEE
Most Improved JAMES MCCOY
Captain BEN THOMPSON
2nd XI Player of the Year JAKE RAINER
Most Improved NOAH LUTTON
Captain CHARLIE KEERY
1st XI Player of the Year CHARLIE ROWE
Most Improved MATTHEW SPENCE
Captains CHARLIE ROWE & LOUIS ROWE
Clubman of the Year JOSHUA CASH
Hot Shot Award ADAM MCKEE (36 Goals)
Oxford Cup DANIEL MCKEE