Banbridge Academy celebrates the 20th anniversary of European Day of Languages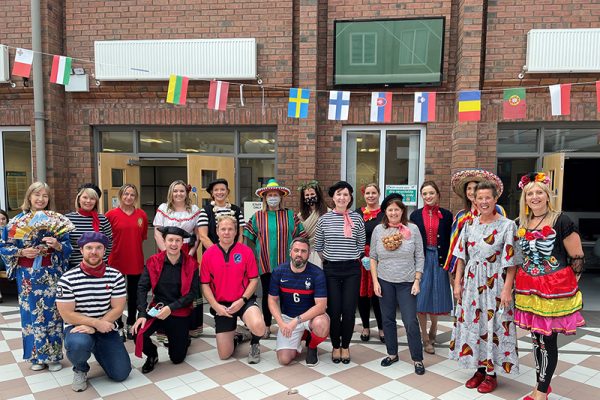 The pupils and teachers of Banbridge Academy have always enjoyed celebrating European Day of Languages but as this year marks its 20th anniversary they decided to mark it with a week of special events.
The week kicked off with a Design a T-Shirt activity for Year 9 pupils, who will submit their design to NICILT to enter its Design a T-Shirt Competition. Year 10 pupils were also encouraged to think creatively and bake a European cake or bread which they can also enter in NICILT's Bake Off Competition.
Pupils from all year groups thoroughly enjoyed the Euro Scavenger Hunt and followed very clever European or languages-related clues around school. We had several winning teams and pupils were delighted to collect their prizes.
On Tuesday lunchtime, pupils were asked to bring their singing voice along to our Eurovision Sing-Along where the old classic The Macarena was a particular hit!
On Wednesday morning, Form Classes took part in a Languages of the world quiz during registration and freshly baked croissants were sold at break time.
On Thursday morning our A-Level pupils had the very exciting opportunity to share their knowledge with the children of Banbridge Nursery and Edenderry Primary. Our AS French and Spanish students went along to Banbridge Nursery to teach the children a French and a Spanish song, while our A2 students of French and Spanish visited Edenderry Primary to work with the two Primary 3 classes. The A2 French students taught the pupils how to count to ten in French and enjoyed a couple of games of Loto! The A2 Spanish students taught the pupils some very useful greetings in Spanish and enjoyed practising them with the children.
On Friday, to finish the fun-filled week off in style, staff came into school in fancy dress to celebrate languages not only from Europe but from all over the world.