Banbridge Academy Rugby Awards Ceremony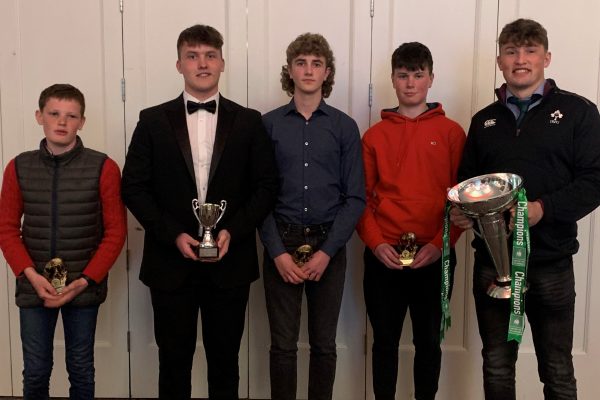 Banbridge Academy Rugby Awards Ceremony
Banbridge Academy held their annual Rugby Awards ceremony last week to mark the end of their season and honour the teams and standout players across the rugby teams in the school. The Awards dinner took place in the Belmont Hotel on Wednesday 30 March with 125 players and staff gathering to celebrate the schools' rugby successes.
The special guest for the evening was the Ireland U20s Grand Slam winning Captain, Reuben Crothers. Reuben is a combative Back Row player who left Wallace High School in 2020 as a Schools' Cup winning Captain and was immediately signed to Ulster on an Academy contract.  He has been involved in the Irish U20 Squad for 2 years and Captained the team to their very recent Six Nations and Grand Slam triumphs. Reuben spoke to congratulate all of the players on their efforts and encouraged those not fortunate enough to have received an award, to keep working hard on their game and keep improving.
Headmaster, Mr Robin McLoughlin, was unfortunately unable to attend as he had to attend the Irish Schools' Hockey, but he passed on his congratulations to the coaches and players alike.  He commended the players on their hard work throughout the season and congratulated them on another fine year in terms of results and performances.  He also commented on the commitment of the coaching staff, namely the school staff of Brian Leslie, Brian O'Shaughnessy, Tim Baxter, Jonny Erskine, Chris Beacom, and Jonathan Reaney, and the outside coaches Roy Stevenson, Robbie Ervine, Charlie Farrell, Jemma Farrell, Adam Hanna, Troy Pinion and Harry Patterson; and paid tribute to their hard work in coaching, refereeing and organisation of teams.
The performance of all the teams was commended and with five teams playing each Saturday and two Under 12 teams playing each Friday, the numbers playing the game are certainly on the rise.  The highlight of the season was the fantastic performance of our Medallion XV to win the Medallion Bowl competition and indeed the juniors, who won the Masters Shield against Dromore High School.
A full breakdown of the individual award winners is below: