Banbridge Academy student wins Bronze at the European Indoor Archery Championships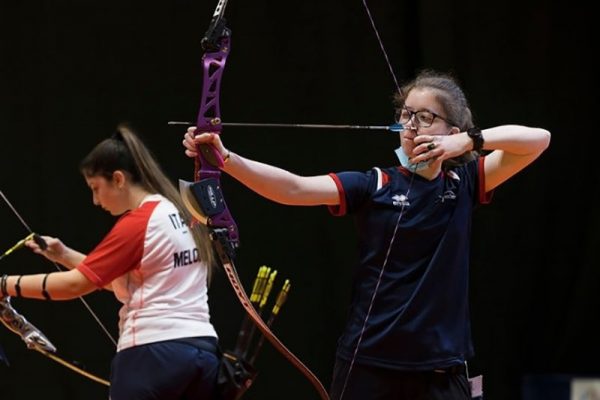 Banbridge Academy student, Kathryn Morton, recently travelled to Laško, Slovenia for the European Indoor Archery Championships.  Kathryn's first challenge came in the form of travel sickness, which she unfortunately suffered during the qualifying round.  However, she pushed through to win her quarter final match 7-1, against an Icelandic competitor.  During the semi-final, Kathryn was up against a Romanian opponent, Elena Topliceanu, who went on to secure the Gold medal and who has become a good friend since they have competed against each other at various competitions.  This placed Kathryn in Bronze medal position in a rematch against an Italian opponent, Eleanora Meloni, and true to form she fought hard to win the match 6-4, taking the Bronze medal for Great Britain – what a great achievement.
Overall, the GB team of 15 athletes, brought home four medals, three of which were won by Junior (U21) Barebows.  This is the first time the Barebow division has been included in an international indoor archery event.
Kathryn commented on this wonderful experience, the great team atmosphere and time shared with some new and old international friends.
Everyone at the Academy are delighted with her success and we wish her well as she continues to hone her skills in the discipline of Archery.
Well done Kathryn!