Banbridge Academy U14 v Strathearn in the Quarter Final of the Junior Cup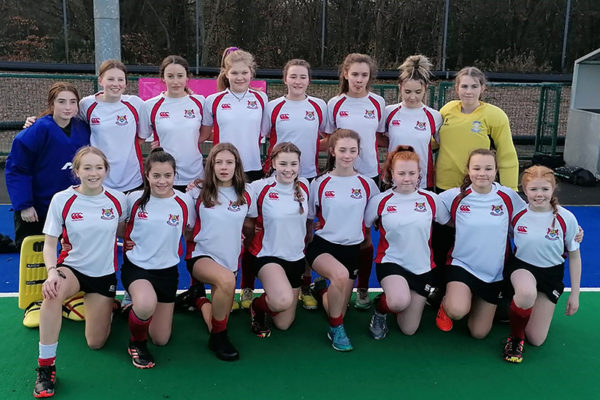 Banbridge Academy U14 had a comfortable start to their Junior Cup campaign having beaten Ballymena Academy 7-0 in the 2nd round followed by a 5-0 win against Cambridge House in the 3rd round. The Junior girls were 1 of 3 Banbridge Academy Girls' Hockey Teams to make it to the QF stage of their respective Northern Ireland cup competitions. 
The girls knew they had a difficult task ahead as Strathearn had beaten them earlier in the season, but having achieved runners-up in the Mid-Ulster Cup Tournament, they had the confidence to believe anything was possible. The Belfast side started the match strongly, scoring 2 quick goals in the first 10 minutes, however, the Academy girls found their fighting spirit and had some attacking play towards the end of the first half.
The second half started with more balanced play from both sides but Strathearn once again found the goal bringing the score to 3-0. Banbridge Academy were awarded a penalty stroke and Mia Gray slotted it past the Strathearn keeper to bring the score to 3-1. Banbridge now had all of the attack, but despite their efforts Strathearn scored again in the dying minutes of the game leaving the final score at 4-1 to Strathearn.