Banbridge Academy v Strathearn – 1st Rd Belfast Telegraph Schools' Cup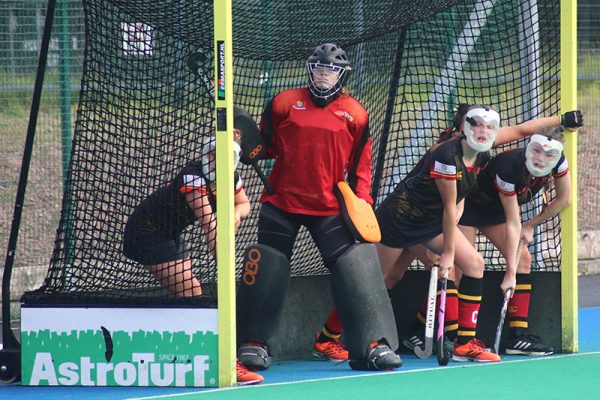 Banbridge Academy 1st X1 faced a strong Strathearn side in the 1st Rd of the Belfast Telegraph Schools' Cup at Havelock Park. Nerves were high but the Banbridge girls were ready to give their all. The first quarter went by quickly with good play at both ends of the pitch. From the whistle the back four of Lauren Hanna, Emily Mathers, Natalie Hale and Hannah Spence were tested by Strathearn forwards, making clinical tackles and giving reassuring clearances out of the circle. Passes connected well up the pitch between Ellen Jack and Ruby Wilson, only to be blocked by the opposing defenders. After winning a penalty corner the home side were unlucky not to convert as the Strathearn keeper and defence had composure on the ball successfully denying the shot.
With boosted morale after quarter time, Banbridge Academy started the second quarter with a higher intensity in an attempt to take control of the game. Strong and fast attacking from Pippa Wilson and Abbi Harrison down the right-hand side kept the Strathearn defence on their toes. At times the visitors proved to be dangerous on the counter attack, but keeper Katie McCullough made saves look easy and at halftime the score remained 0-0. Halfway through the match, both sides were still evenly matched. Finally, a period of excellent play between Amy Somerville and Pippa Wilson allowed Pippa to run the baseline and slot the ball past the keeper, much to the relief of the team and bringing the score to 1.0.
With the advantage of a goal in hand, the local girls settled and let the ball do the work. Further penalty corners were won by both sides, which were well defended, and Banbridge remained one up at the end of third quarter. Determined to keep their lead for the last 15 minutes, Banbridge Academy's defence had composure on the ball with periods of fast attack down the wings. Great interceptions from Lucy Copes and Emma McPolin denied long balls across the pitch to Strathearn sticks making it hard for them to equalise. At fulltime the score was 1-0 to Banbridge, who now face Armagh Royal in the 2nd Round. The squad would like to thank the umpires, supporters, Mr Neil Madeley (Coach), Hannah Buchanan and Mrs Todd for all their help on the day.