Boys' Minds Matter – Bespoke Mental Health Event – Boys' Hockey Banbridge Academy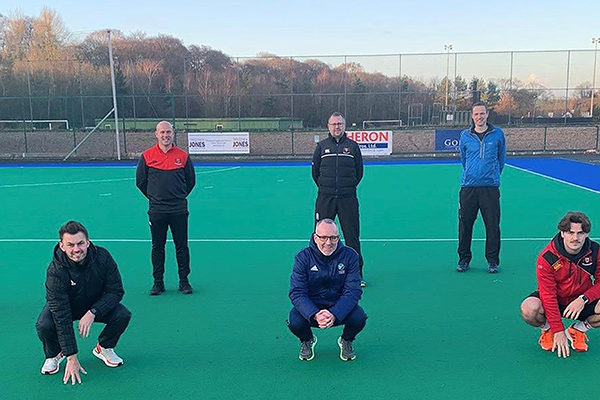 A bespoke Men's Mental Health Awareness event was staged at Havelock Park by Banbridge Academy during senior games and after-school hockey training on Wednesday 25 November. Following the normal high quality and high intensity training session, the boys had an opportunity to talk about the crucial importance of mental health as well as their physical health. Mr McLoughlin and all who attended thanked Mr Mark Cordner, MiC Boys' Hockey, for all of his efforts in organising such a crucial event and for his inspiration in helping to address such a vital part of well-being for the pupils in the care of the school.
Everyone enjoyed food and chat – chips, tea and toast whilst having the opportunity to talk with former pupils, Matthew Bell and Mark Tumilty. Matthew is currently working in the school and he provides an excellent role model for the pupils on how to deal with adversity. Mark, as the former coach at Banbridge Hockey Club and now the Irish Men's Hockey Coach, outlined the crucial importance of taking care of your mental as well as your physical health. Mark was presented with a school plaque in recognition of being the first Banbridge Academy former pupil, in any discipline, to coach a National sports team as a professional coach. All of the pupils, parents and coaches warmly congratulated him on such a wonderful accolade and wished him every success with the National Team.
The senior boys, their coaches and teachers involved in games would like to place on record their grateful thanks for the financial input from the ABC Council and the Lord Major for their support with this important initiative, especially given the current difficult circumstances.
Photographs
Mr Mark Cordner, MiC Boys' Hockey, Mr Mark Tumilty, Irish Senior Men's Hockey Coach and Mr Robin McLoughlin, Headmaster.
Banbridge Academy Hockey Coaches with Edward Rowe, 1st XI Captain and Mark Tumilty, the Irish Senior Men's Hockey Coach
The other two photographs show the boys enjoying their 'chips and chats' during the event.