International Success and Academy Netball attempting the Team Treble at the NI Netball Finals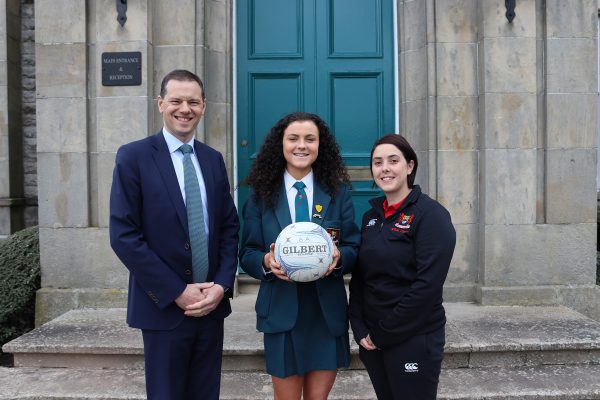 International success – HUGE congratulations to Nadia Radcliffe (Year 14) who has been selected for both the U17 and U19 Northern Ireland Development Squads. Having played throughout her school career she now goes on to play at senior national level.
Minor Teams
Banbridge Academy Minor squads have enjoyed a successful run in their respective leagues this season. The Minor A Team having comfortably won two out of their three matches beating Sacred Heart, Newry and St Joseph's, Donamore. They are now confident in their run up to the Northern Ireland School's finals day where they will face St. Ronan's, Lurgan on Thursday 12 May at Lisburn Raquets. The Minor B team have also gained a place in their final following an unbeaten streak against Shimna Integrated, Down High School and Regent House.
Photographs
Minor A
Back – Lexie Kerr, Emma Newell, Tasja Sneddon, Ellie Walker, Cliodhna McGrath
Front – Abigail McConville, Christina Bickerstaff, Rebekah Matthews (cpt), Ella Bell, Abigail Walker, Grace Mussan.
Coach – Mrs Nicole Beggs
Minor B
Back – Charlotte Hampton, Mia Graham, Gracie Johnstone, Ruby Johnston.
Front – Caitlyn McErlean, Evie McCauley, Leona Lin (cpt), Lola Brown, Samantha Burns-Atkins
Coach – Mrs Nicole Beggs
Junior Team
Following two wins in their league stages the Academy Junior A team has gained a place in their Northern Irish Schools' Final. They comfortably defeated Rockport, Bangor, score line 18-9. They also narrowly defeated Belfast Royal Academy 15-14 and will now face them again in the final on Thursday 12 May at Lisburn Raquets.
Photographs
Back – Jessica McCullough, Emily Castles, Anna Atkins
Front – Lasara Magennis, Olivia McDowell. Lucy Megaw (cpt), Kristen Ginniff, Sara Cairns.
Coach – Mrs Nicole Beggs