Irish and Ulster Table Tennis success for Academy Teams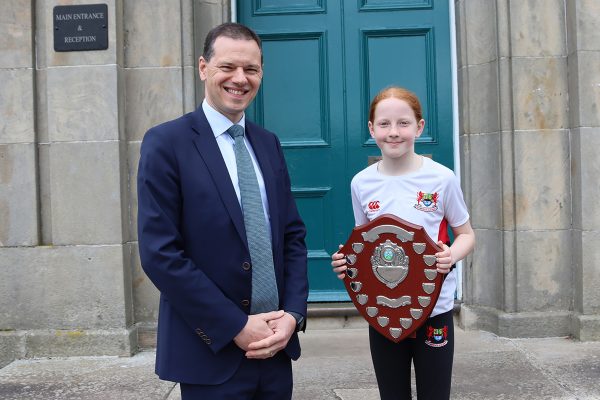 Banbridge Academy U19 Girls' Team completed a successful season with victory in the Irish Schools' Championships at The National Indoor Arena, Abbottstown on Thursday 28 April. Following on from their success in the Ulster Championships at Lisburn Rackets Club, the team maintained their momentum, with all the girls scoring points to contribute to the success. This is a great reward for the team who already had success at Ulster & Irish level as an U15 team and a fitting reward for their resilience during the Covid disruption.
The U19 team is made up of the following players:
Ruby Bushby, Kerry Crothers, Lara Crothers, Maya Forsthye, Kristen Ginniff, Melissa Neville and Aleyah Peniero
The Banbridge Academy U13 Girls' Team also enjoyed success at Ulster level, however disruption at Irish level prevented them from competing at Abbottstown. This young team displayed great potential in winning the Ulster Championships' at Lisburn Rackets Club on 6 April. As with their senior counterparts, all of the girls on the team contributed points through success in both singles and doubles, building a substantial team total that would ultimately lead to success.
The U13 team is made up from the following players:
Sophie Crothers, Alana Eadie, Lexie Kerr, Katie Leslie, Selena Neville and Emma Newell
The success of both teams is a reflection of the talent within the teams and the organisation and commitment of their coach Mr Arnold Morgan. Arnold is the quiet man behind the scenes organising, motivating and coaching these teams and many others in the area, and he deserves recognition for the tremendous work he does.
Katie Leslie U12 Ulster Champion
Many congratulations to Katie Leslie, Year 8, who won the U12 Ulster Table Tennis title, beating players from Sullivan and Cavan.