Aims And Vision
to develop an interest in, and enthusiasm for, languages among the pupils

to enable the pupils to understand the language in a variety of contexts

to enable the pupils to communicate confidently, clearly and effectively for a range of purposes

to give the pupils an understanding and awareness of the society, culture and heritage in the countries where each language is spoken.

to help the pupils acquire knowledge, skills and understanding for practical use/further study or employment

to prepare the pupils to take their place in a multilingual global society.
Pupils will have the opportunity to have contact with pupils in the country of the language studied, from penpal links to trips/exchanges abroad.
Key Stage 3
All pupils learn French in Year 8. They will develop new skills in Speaking, Listening, Reading and Writing in French. Topics include family, house and town, hobbies, school, food.
In Years 9 & 10 pupils continue to learn French and will study a second Modern Language, Spanish.
Pupils must choose at least one language for GCSE, with many pupils opting for two.
GCSE
A language is compulsory at GCSE (French/Spanish), with many pupils opting to study both.
Each of the 4 skills of Speaking, Listening, Reading and Writing are worth 25% each and pupils sit all exams at the end of Year 12.
There are 3 context areas:
Identity, Lifestyle and Culture
Local/National/International & Global areas of Interest
School Life, Studies and the World of Work
AS
There are two context areas for language study at AS:
Relationships
Culture and Lifestyle
There are 3 assessment units at AS:
AS 1 Speaking, AS 2 Reading, Listening and Use of Language, AS 3 Extended Writing (a study of a film/book)
A2
There are two context areas for language study at A2:
Young people in Society
Our Place in a Changing World
There are 3 assessment units at A2:
A2 1 Speaking, A2 2 Listening and Reading, A2 3 Extended Writing (a study of a film/book)
Career Opportunities
The A level Modern Language course provides a basis for the further study of the language at degree level but is also a coherent, satisfying and beneficial course for those who do not intend to continue with their study of the language at this stage. Pupils gain many valuable skills which are useful in multiple careers through the study of a Language at AS/A Level.
Modern Language Graduates have a wide choice of careers open to them. They may pursue careers closely related to the language, such as interpreting, translating or teaching but they will also find that qualifications in a modern language are useful in many other fields, amongst the most common of which are travel and tourism, journalism, social media, finance, sales and marketing, management services and public relations. Students who aspire to work in international affairs or within the legal, financial or administrative institutions of the European Union should consider studying a second modern language in order to enhance their career opportunities. The study of a language with science should also be considered for this reason.
European Day of Languages.
We love to celebrate the annual European Day of Languages each September and use it as an opportunity to spread the joy of learning a language throughout our school community.
2021 saw the 20th anniversary of this great celebration and we put on a fun-filled week of events. 
The week kicked off with a Design a T-Shirt activity for Year 9 pupils & Year 10 pupils were also encouraged to think creatively and bake a European cake or bread. 
Pupils from all year groups thoroughly enjoyed the Euro Scavenger Hunt and followed very clever European or languages-related clues around school.
On Tuesday lunchtime pupils were asked to bring their singing voice along to our Eurovision Sing-Along where the old classic The Macarena was a particular hit!
On Wednesday morning Form Classes took part in a Languages of the world quiz during registration and freshly baked croissants were sold at break time
On Thursday morning our A-Level pupils had the very exciting opportunity to share their knowledge with the children of Banbridge Nursery and Edenderry Primary. Our AS French and Spanish students went to Banbridge Nursery to teach the children a French and a Spanish song while our A2 students of French and Spanish went to Edenderry Primary to work with the two Primary 3 classes. The A2 French students taught the pupils how to count to ten in French and enjoyed a couple of games of Loto! The A2 Spanish students taught the pupils some very useful greetings in Spanish and enjoyed practising them with the children.
On Friday, to finish the fun-filled week off in style, staff came into school in fancy dress to celebrate languages not only from Europe but from all over the world.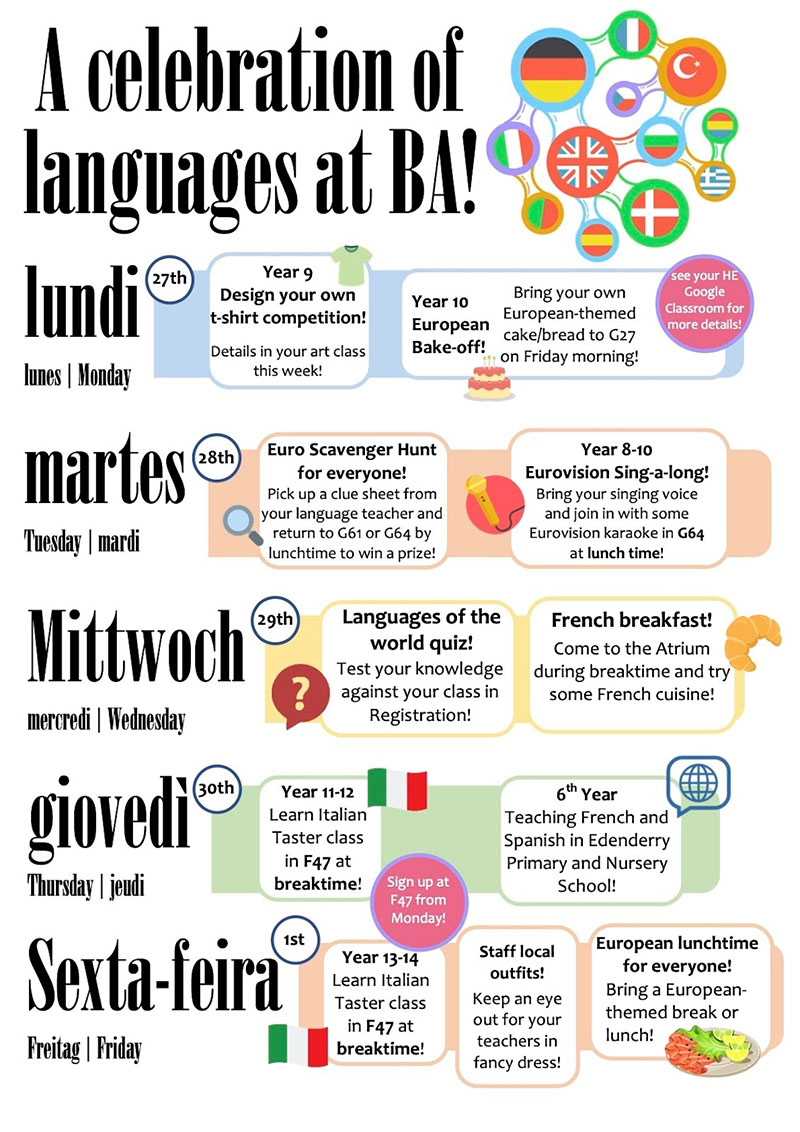 The Spanish Exchange
We aim to take part in a Spanish exchange every 2 years. Our last exchange took place in 2019 & a group of 15 pupils from Banbridge Academy spent a week with pupils from 'IES Miguel Servet School' in Zaragoza. Our Spanish 'amigos' then made the return part of the trip and came to N. Ireland in March 2019. It can be a nerve-wracking experience as the pupils are living with their exchange partner and family, but it is so good for their understanding of the Spanish language. It is also an amazing opportunity to meet new people, try new food, experience life in a foreign school and develop their self-confidence as they 'survive' life in another country! It is also great craic!!'
The French Exchange 
We are very proud of our long-standing and popular French Exchange with Collège St Joseph, Dijon. It has been running for over twenty years. Every two years, usually in February or March, we welcome our French penpals to Banbridge Academy and together we enjoy an action-packed week. 
We love showing 'nos amis Français' all that Northern Ireland has to offer as we bring them to The Giant's Causeway, The Titanic Museum, The Ulster-American Folk Park and even Ferguson's Linen, Banbridge, for example. 
In June we make the return trip to Dijon where we reunite with our French friends. Our exams are behind us, the weather is good and the food is even better! We enjoy lots of day trips in and around Dijon and enjoy learning all about the history of the Burgundy region. 
The French Exchange is an unforgettable experience, we make life-long friendships, we deepen our knowledge of French culture and we get the chance to practise our French in real-life situations! Quelle chance!  
Magazine Articles
Banbridge Academy Magazine 2015-2016: Modern Languages Article