McCullough Cup Semi Final excitement builds!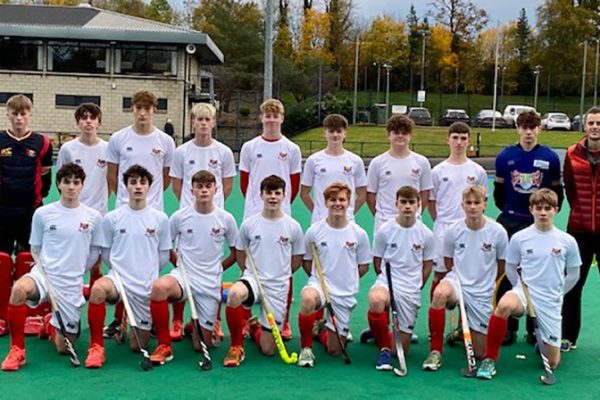 The Academy Boys' Hockey 1st XI are looking forward to a serious challenge as they prepare for the Ulster Semi against old rivals Cookstown HS. The game starts at 1.30pm at Lisnagarvey HC on Wednesday 1 December 2021 and the locals will be spurred on with five coaches of Academy sports fans.
The team are in fine form having been unbeaten this season and having taken an excellent 8-1 victory over Limerick school, Villiers GS, in their Irish Schools' Game a few weeks ago. That style of attack and flair, synonymous with vibrant coach Mr Simon Jess, has been a pillar for the squad and it will need to be well executed against a well drilled Tyrone side. The Academy will look towards the experience of Louis and Charlie Rowe, who have been in scintillating form for both Ulster and Club senior teams, scoring and adding some serious potency to a side that has a fabulous depth of talent. With the like of Matthew McKee, Ben Pollock and Joshua Brownlee all showing signs of real consistency, the Cookstown side will need to be fit and disciplined to stand a chance of testing Sebastian Best and the Academy backline with their trademark set pieces.
The game sees a repeat of the John Waring game some three seasons ago when the Academy ran out 3-0 winners before lifting the Irish Schools' Trophy for the first time in the school's long history of playing hockey, however, as Master IC Boys' Hockey points out that was then and this is now.
"We have grown not just physically but also in how seriously the game is being taken by this talented squad and its coaching team of Mr Simon Jess and Mr John Clarke. The attention to detail during sessions is testament to the camaraderie and skill within the team. The patterns of play and quality of set pieces to date has reaped a significant goal return and Mr Jess will be hoping this clicks on the day".
Mr Jess added "We will not be underestimating our opponents who have a number of strong players and a quality set piece. The squad have been working tirelessly to ensure they are in the best shape possible. We are looking forward to a crowd and a highly competitive showcase for Ulster Hockey".
The Academy Hockey Squad would like to thank sponsors Sintons at the Bridge and EMTEK for their support for senior hockey this season.