Aims And Vision
To develop an understanding of film language in both theory and practice;
To enrich each pupil's understanding of the creative and cultural industries.
To develop ideas through investigating and experimenting with filmmaking techniques and processes.
To develop technical competence in the use of filmmaking techniques.
To develop creative and critical skills and the ability to apply these to a practical task.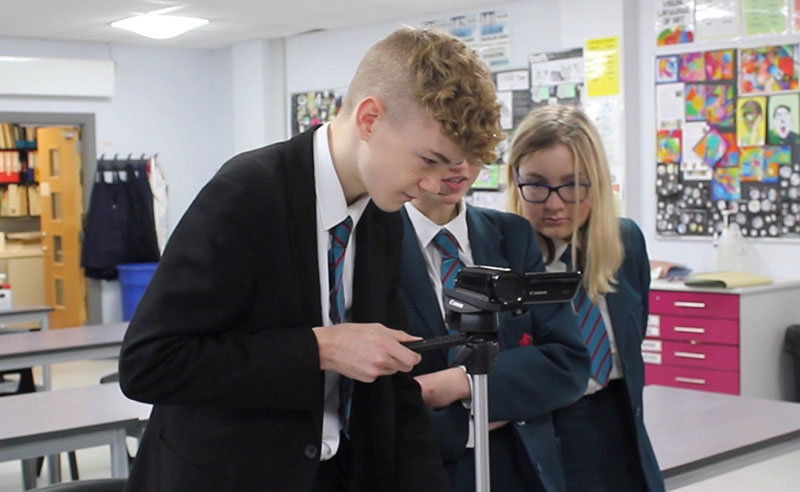 Magazine Articles
Banbridge Academy Magazine 2015-2016: MIA Article
GCSE
In a culture shaped and influenced by audiovisual discourse, this specification promotes students' development as individuals and skilled contributors to the creative and cultural industries.
The CCEA GCSE Moving Image Arts specification is unique in the UK, giving students the opportunity to develop audiovisual literacy and creativity through hands-on learning in the craft of moving image arts.
Students develop a broad critical understanding of film language, narrative, representation and audience in both theory and practice. They investigate films from a variety of genres and contexts, demonstrating the ability to analyse and evaluate creative purpose. They also experiment with a range of film-making techniques, including animation, and create their own complete moving image portfolios. Students acquire a range of skills on this course such as leading and working with teams and managing resources and creative processes independently, with initiative and creative enterprise.
This qualification builds on the knowledge, understanding and skills developed through the Area of Learning The Arts and the Cross-Curricular Skill of Using ICT.
This specification is a linear qualification: students take all the assessment at the end of the course.
The specification has three components:
Component 1: Critical Understanding of Creative and Technical Moving Image Production
Component 2: Acquisition of Skills in Moving Image Production
Component 3: Planning and Making a Moving Image Product.
How will you be assessed?
You will complete one Component 3 online examination in Year 12, four Component 2 controlled assessment tasks in Year 11 and one Component 3 controlled assessment task in Year 12.
| | |
| --- | --- |
| Component | Outline |
| Component 1: Critical Understanding of Creative and Technical Moving Image Production | You will complete an online exam which will last 1 hour 30 minutes. The exam is divided into three sections. Section A: Film Language, Genre and Representation Section B: Creative Production, Management and Industry Contexts Section C: Comparative Analysis The examination will feature a range of question types including film language based questions with different types of audio and visual stimulus (in Section A), creative tasks and production-based scenarios (in Section B) and previously unseen film sequences requiring comparative analysis (in Section C). |
| Component 2: Acquisition of Skills in Moving Image Production | You will complete four controlled assessment tasks in response to a stimulus booklet we provide: Task 1: Storyboarding – we provide a script – you create the storyboard; Task 2: Camera and Editing – we provide a script – you shoot and edit the sequence; Task 3: Post-production Sound – we provide a silent film clip – you add the sound; Task 4: Animation – we provide voiceover dialogue – you animate a figure that responds to it. Your teacher will mark the work and we will moderate it at CCEA. Your tasks will be submitted in digital format. |
| Component 3: Planning and Making a Moving Image Product | You will complete one controlled assessment task in response to a stimulus booklet we provide. The booklet will contain four possible narrative scenarios to choose from for each of the specification's six set genres. You will choose one scenario and create your own film and portfolio in response to it. Your final portfolio must contain the following: • a Research Analysis (including a film Synopsis) and an Evaluation; • a Screenplay and Storyboard; • a Shotlist, Shooting Schedule and Director's Notebook; and • a final narrative Film. Your teacher will mark the work and we will moderate it at CCEA. Your task will be submitted in digital format |